Welcome to High Seas Trading Co!!
Men's Hawaiian Shirts, Aloha Face Masks, Women's Hawaiian Shirts, Made in USA Clothing, T-shirts, Caps, and Outerwear!!
We are your go to Hawaiian shirt store!!
We have a huge stock of over 100 Aloha shirt designs in sizes Xsmall-4xl in exclusive Hawaiian tropical and novelty designs. Come browse one of the largest selections of Hawaiian shirts in the world with more than 15 collections including car shirts, parrothead, under the seas, surf, music, seasonal and patriotic Hawaiian shirt designs.
All shirts are made in the USA locally with premium 100% high thread count cotton with authentic coconut buttons, side vents for comfort, and a perfectly matched to the design. We are passionate about art and design and you will always find new bold and finely illustrated prints. To view all of our designs, visit our store at:
23482 Peralta Dr. D-2 Laguna Hills, Ca 92653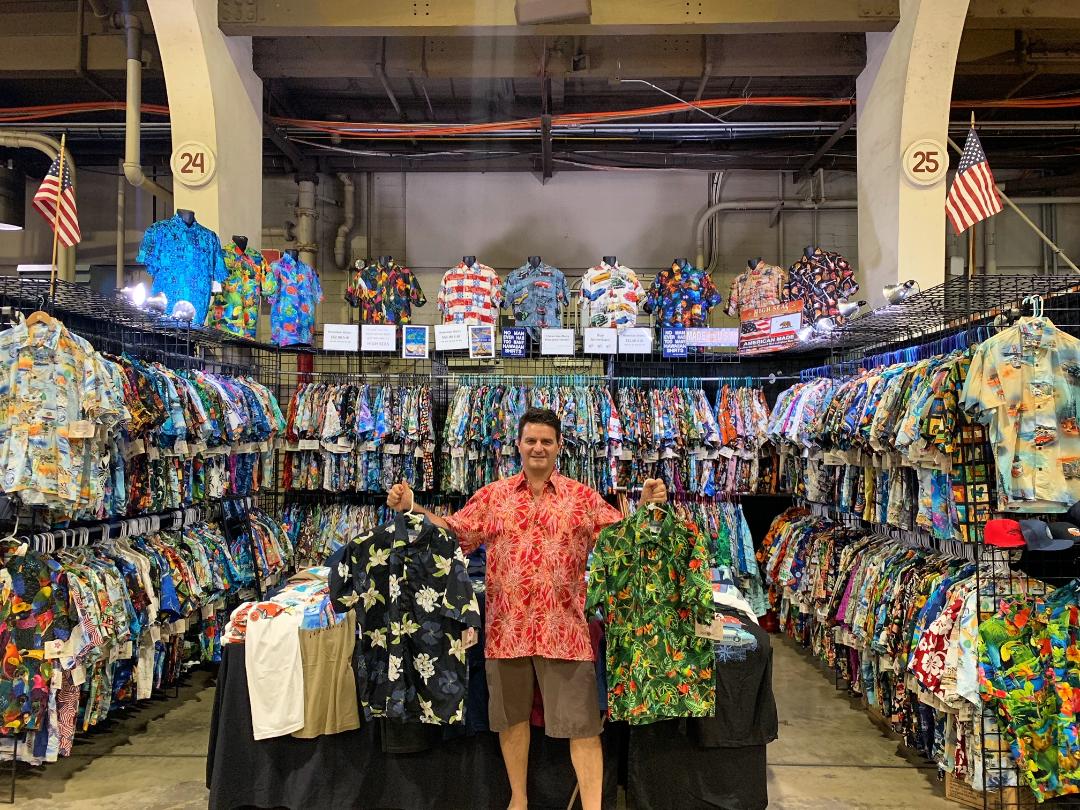 Or view our Hawaiian shirt gallery at:
https://www.highseastradingco.com/c-2-mens-hawaiian-aloha-shirts.aspx
**NEW** Women's Hawaiian Shirts
We are excited to announce a new collection of ladies' aloha shirts in sizes Small-XXl . Our new women's shirts features 15 new designs that are made of 100% high thread count combed cotton in bright tropical prints and are all made in the USA. The ladies' cut has a contoured fit with shorter set in sleeves, real coconut buttons, and 4" side slits so shirt can be worn outside or tucked in.
https://highseastradingco.com/c-76-womens-hawaiian-shirts.aspx
If you have questions or would like to order by phone, please call 888-941-4147
We are now open 7 days a week!!
Aloha Face Mask Co.
In March, at the request of Southern California Hospitals, we began making PPE Face Masks. We then created Aloha Face Mask Co. to bring the "Aloha Spirit" to these challenging times and now have over 110 designs of Hawaiian and novelty designs in our best and boldest designs. These face masks are made in Huntington Beach, Ca and are double layered with the same high thread count combed cotton as our premium Hawaiian shirts. To see our all our latest prints click this link:
https://www.highseastradingco.com/c-74-aloha-safety-face-masks.aspx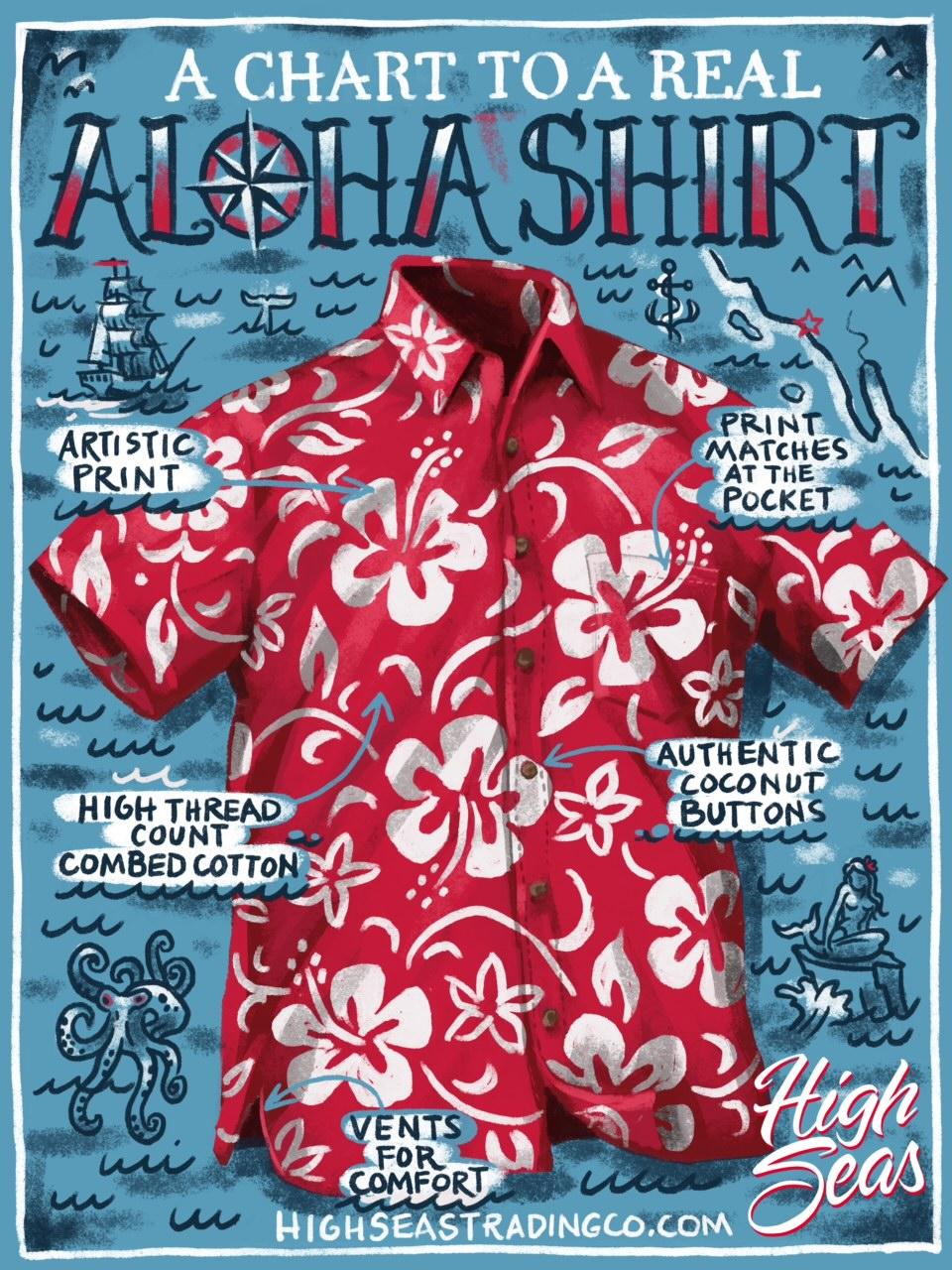 Inspired by the Aloha shirts from the golden era of the 1930s-50s, we are committed to make our garments in that same tradition. We start with fine artistic illustrations and convert them to high thread count combed cotton which is tailored in the USA, one of only 2% of manufacturers that still do. We use authentic coconut 🥥 buttons and have side vents for comfort. For more than 32 years we have been passionate about art, culture, and design and are committed to creating collectible wearable art. You can view our more than 140 Hawaiian and novelty designs at:
Men's Hawaiian Shirts by High Seas
Please click link below for sizing guide:
Give the Gift of Aloha with a High Seas Gift Card!!
High Seas aloha gift cards are always a great idea for for the discerning collector. These can be used used online, by phone or in store.
Link to gift cards Hawaiian Shirt Gift Card (highseastradingco.com)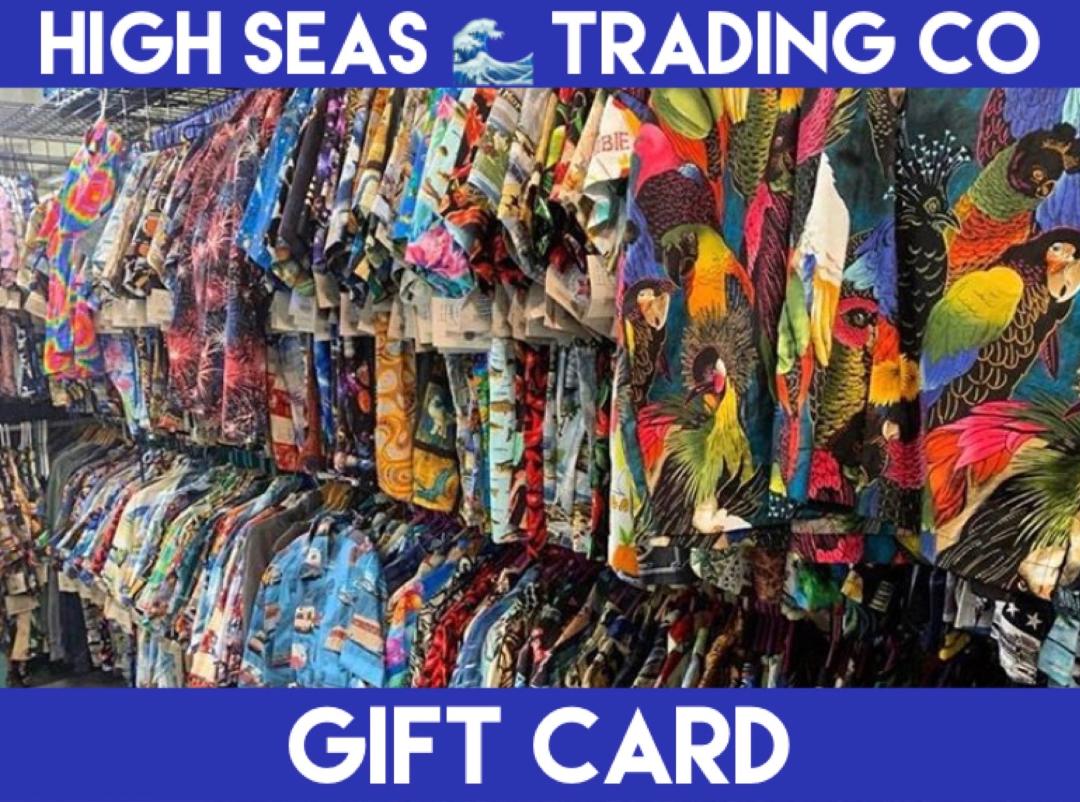 Company History: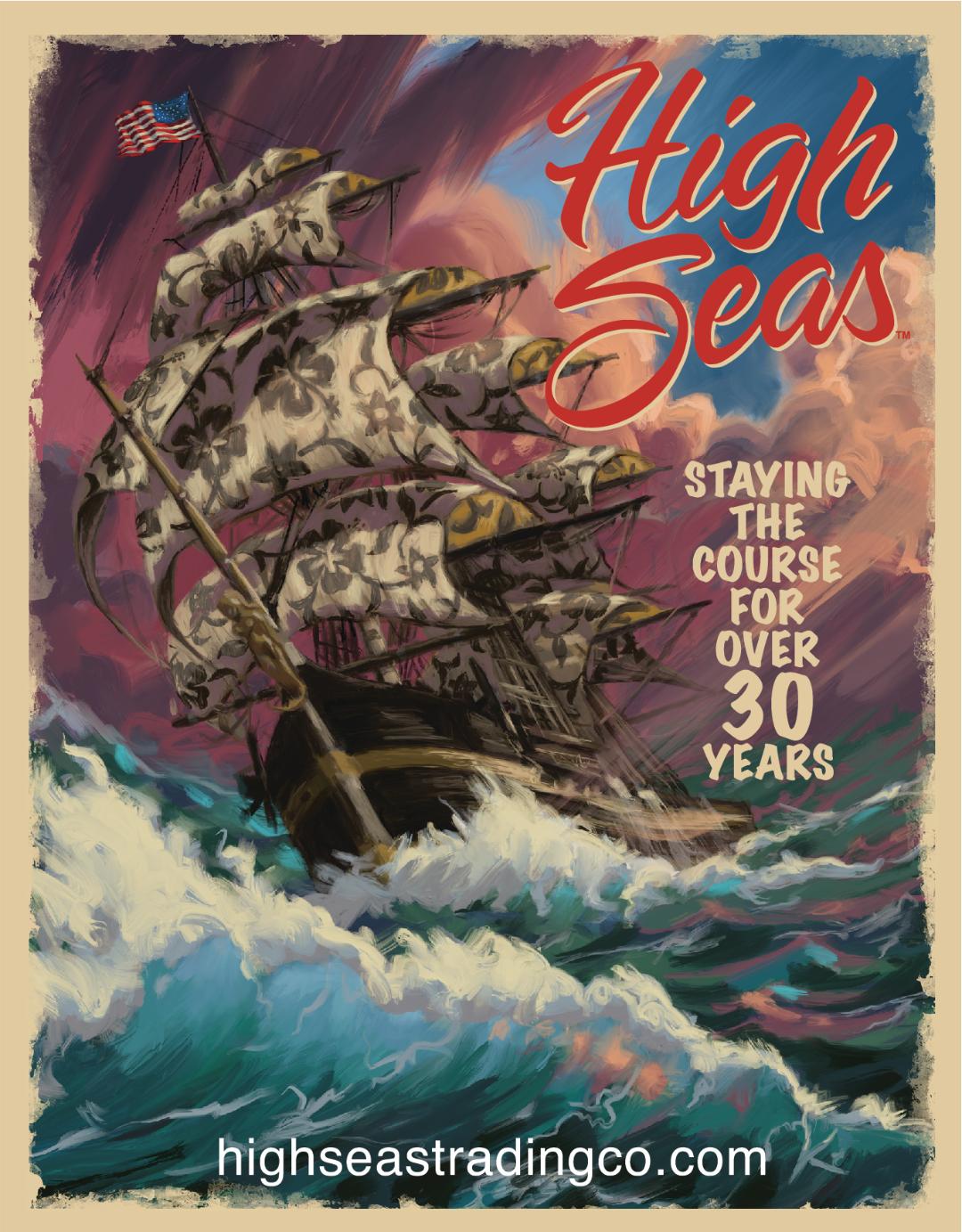 Three Decades ago, the journey began in the coastal city of Dana Point,Ca. Drawing inspiration from the ocean, nature, travel, and culture, we are dedicated to converting fine art to cloth which is tailored and brought alive on each one of our Hawaiian shirts. Our shirts have been designed and made in California since 1988.
High Seas Trading Co. is family run company and is proud to be in the less than 2% of apparel companies sthat manufacture in the USA. Being a local company gives us the speed and flexibility to make limited edition and small runs of rare fabrics. We are passionate about art and design which drives us to contant design and release 7-10 new prints monthly.
High Seas Trading Co. would like to thank our many customers who have supported us for more than 32 years. We have gained valuable feedback and great ideas which has helped us to continually to improve our line.
News and Announcements!